XOSync Step 6 is for connecting the gateway used in your Ontraport Transaction to the correlating Payment Account, Currency and Branding Theme in Xero.

A common issue that may arise for you is that the 'Select Account' dropdown has nothing showing. If this happens in your setup it means that your Account Codes for transactions or bank accounts in Xero do not have a 'Code' related to it. Fix this by going into your
Xero Chart of Accounts
and giving each of your Bank Accounts a 'Code'.
Select Account screen on Step 6.


Chart of Accounts in Xero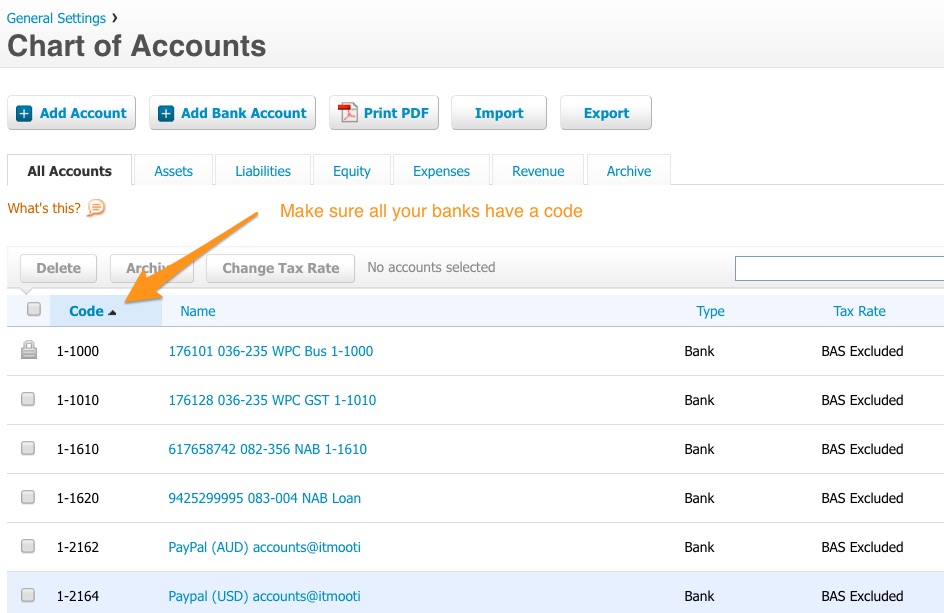 Connecting to Stripe as a Payment Gateway

Stripe is a gateway that converts the money received at the time of payment to your chosen currency in your Stripe Settings. A Stripe account can only settle into that chosen currency that matches the bank account currency the money will be sent into. If you are transacting in your Ontrpaport account with a different currency than the currency where the amount will be transferred into then Stripe uses a specific conversion rate for that.

When XOSync creates the payment into your chosen Xero Bank Account we will need to identify that conversion rate. We do that by querying the the StriPe API for both the payment and settlement amount. That way the correct conversion rate will be used in your Xero account when the payment is added.

XOSync also has the ability to generate a bank feed into your Xero account for the transaction account for Stripe. Follow the instructions in the article
here
.